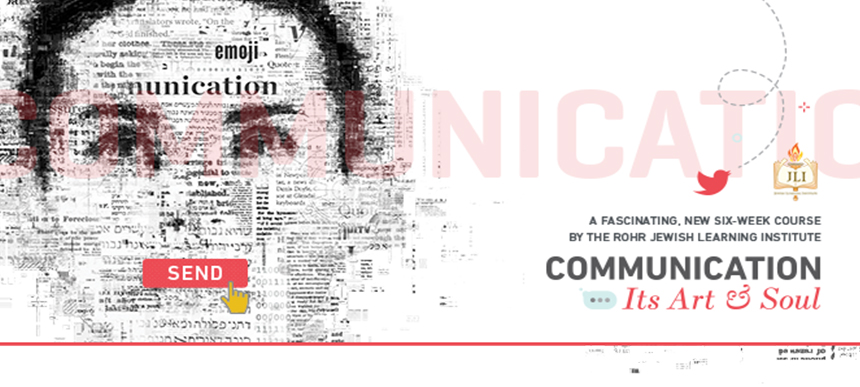 Communication is not just another self-help topic. It is how we live up to our truest selves—how we become the best father, mother, sister, brother, child, spouse, coworker, boss, employee, and friend we can possibly be. Jewish teachings are filled with insights that unlock the secrets of communication as well as powerful ideas that help us understand the power of a word and how to unleash its force constructively and impactfully.
In Communication: Its Art and Soul, we contrast Jewish thought with scientific discovery to unearth the essence of communication, and how to utilize its powers to better ourselves, our relationships, and all of society.
Reclaim the lost art of human connection.
"...Truly artful and soulful. It covers the depth of authentic communication that the world so desperately needs... This course will transform how you relate to all people in your life. —  An Absolute Must." Harville Hendrix, PhD & Helen Lakely Hunt PhD, cofounders IMAGO Relationship Therapy and Safe Conversation. Coauthors, Getting the Love You Want and nine other titles
WHEN:  Three Convenient Times - You Can Mix & Match Too:
Option 1: Six Sunday mornings starting
January 21, 2018 | 10:30 am -12:00 pm
Option 2: Six Monday evenings starting
January 22, 2018 | 7:30 pm - 9:00 pm
Option 3: Six Wednesday mornings starting
January 24, 2018 | 10:00 am -11:30 am
Option 4: Too busy to attend?  
Listen ANYTIME online or download mp3 files
Six weeks starting January 25, 2018
 Accredited for Social Workers, Medical and Mental Health Professionals
Earn up to 15 CEUs, from the APA, ACCME (AMA), and NBCC.  For a complete accreditation statement click here.  click here to view the professional course syllabus
Accredited for 9 MCLE General or Professional (Ethics) Credits *

LOCATION:
Fraida-Cameron Chabad Center for Jewish Life & Learning
2904 Old Glenview Rd, Wilmette, IL 60091
FEE:
$100 (textbook included)
10% Couples discount!
*additional $100 for MCLE Credits for attorneys
Join the first class free (with no obligation to continue)
FOR MORE INFORMATION:
Call: 847.251.7707
Email: JLI@ChabadWilmette.com

Lesson 1 — The Essence of Communication
What is communication? It's not speech, it's not a language, it's not even words. Explore the pros and cons of new digital forms of communication, exploring mystical anthropomorphic references to human communication to get to the essence of what communication is all about, why it is the stuff relationships are made of, and what your communication style reveals about you as a person.

Lesson 2 — Opening Up to New Perspectives
Communication advice is so often about learning how to listen. Why is it so hard to listen to others? And what do we gain from listening? Is it merely a mutually beneficial arrangement—I'll listen to you, if you listen to me? Or is there more to be gained from opening ourselves up to new perspectives—viewpoints we may never have considered had we not opened ourselves up to truly listen to others?



Lesson 3 — If Sticks and Stones Can Break Bones, Words Are Atom Bombs
What makes silence golden? Why are well-timed words so powerfully constructive, whereas ill-timed words are so fatally destructive? What makes words so powerful? This lesson considers how our words impact people's impressions of us, as well as our emotions and reality, and how we can learn to unleash the power of words more discerningly.

Lesson 4 — Context Matters
The simplest messages are often misconstrued in ways we could never predict. Constructing a clear argument is important, but peripherals such as tone, body language, and context can ruin our message, making it sound like static noise, or worse. How do we ensure the listener's takeaway is the same as the one we intended to communicate?



Communication is the tool of great leaders and a powerful way to influence. Is communication meant for self-expression, or do we carry a responsibility to utilize its power to influence others? How do we know when to share, and when to keep to ourselves? And how do we determine when we are being influential, and when we are just projecting our insecurities onto others?

Lesson 6 — Conflict Resolution
Surprisingly, conflict isn't always a bad thing. In adversarial collaboration, conflict broadens horizons to reveal more profound truths. What can we learn from the argumentative style of Talmud study, to shift from an ego-driven, win-lose mentality to one in which all parties are winners? And how can we engage in healthy conflict—and resolution—for the betterment of society?